Shirley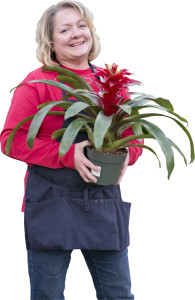 Whether you need a helping hand, or just a good laugh you'll want to keep your eye out for Shirley. Her cheerful spirit is sure to make you want to linger in the greenhouse just a while longer. During the summer you can find Shirley tending to everything growing in the perennial house; You'll spot her right away because she always wearing a great smile and is enthusiastic about offering her gardening guidance. When the chillier season hits, Shirley can be found keeping the plants inside fully stocked, delightfully watered, or crafting away. Shirley has a great sense for composing winter greens and works diligently creating delightful table centerpieces and Christmas Urns for you to adore. Shirley is passionate about writing which is evident, especially when she's giving you great bug busting advice. You can even find Shirley's writing making guest appearances on the Salisbury Dig In blog!
Besides admiring the plants, I can be found at Salisbury doing…
customer service in perennials, and occasionally trees and shrubs.
My Favourite plant is…
I have two absolute  favourites; maples and hydrangeas!
What I love most about gardening is…
oh goodness, there's so much I love: the scents, the sights, the feel of cool damp soil.
I grew up in… Southern Alberta and my fondest memory there is… frequenting Waterton National Park, where we hiked, had wiener roasts, played near the lakes, and photographed wildlife.
As a child, I dreamt of being a…
writer.
If I had no limitations, I would be working as an…
author.
Something you'd be surprised to learn about me is…
I'm a bookaholic with a quirky sense of humour. I'm at my funniest when I'm overtired, or at least I think I am.
My favourite guilty pleasure, closet snack food is…
Caramilk chocolate bars.
I love telling people I've traveled to…
Vancouver where I visited botanical gardens and the ocean
The book I could read again and again is…
Any of the Harry Potter series (Seriously!). Next up, anything by Carolyn Hart.
My life motto is…
live, laugh, love.
My colleagues would most likely describe me as…
Friendly.