Peter – Pots & Statuary Manager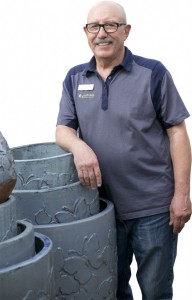 Peter is a Jack-of-all-trades, getting his hands into a little bit of everything at the greenhouse. While he keeps the most orderly, area of pots, fountains, and statuary, he can also be found lending a hand and keeping the ambiance jovial. Peter started playing hockey the age of five, which might be why his strategies are always on point.
Nickname
Peter Pots
Besides admiring the plants, I can be found at Salisbury…
A little bit of everything, "Jack of all trades, master of none" as the saying goes.
My favourite plant is…
All flowering plants, both annuals and perennials
What I love most about being in the garden is…
that after a hectic day at work being in the garden tends to make all the stress of the day go away.
I grew up in… little Italy in Calgary and my fondest memory there is… I cannot list all of there fond memories there (there are too many).
As a child, I dreamed of owning a…
A pro hockey player. I started playing hockey at the age of five.
If I had no limitations, I always wanted to…
own a ranch in the foothills of Alberta, but it was never meant to be.
My favourite guilty pleasure closest snack food is…
Cheesecake that my wife makes me twice a year whether I need it or not.
I love telling people that I've traveled to…
Italy – The south coast, mainly the Amalfi coast, as my family on both sides are Italian.
My all time favourite movie is…
Legends of the Fall because it was filmed in Alberta and my brother worked on that movie.
My life motto is…
Be kind to one another and treat others like you would  like to be treated. Life is short.
My colleagues would most likely describe me as…
Anal – Product has to be clean, straight, and make sense to the customer because, "Retail is detail".