Myra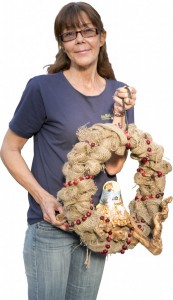 You can't truly understand the term 'busy bee' until you've met Myra. If you've ever seen a streak of blue in the hardgoods department, trust that it's Myra making sure shelves are stocked, organized, and looking pristine. Myra has a knack for being carefree and jazzed up simultaneously and will leave you feeling elated even after a brief chat. You can find her free-flowing imagination spilling out into the greenhouse – just pick up one of her festive bird feeding wreaths and you'll see exactly what I mean. And for a gardener, she has the nicest nails you've ever seen; seriously, check them out because they're gorgeous.
Nickname: My
Besides admiring the plants, I can be found at Salisbury…
Maintaining the tool wall, organizing seeds, feeding the birds, crafting one-of-a-kind bird feeder holiday wreaths.
My Favourite plant is…
The Scarlet Runner Bean because they're fast growing, and create a beautiful privacy wall. They're easy to admire especially since they attract humming birds, and a bonus is that you can re-harvest the beans to grow again next year.
What I love most about gardening is…
how just adding water and sunshine can make plants grow right before your eyes, it's really amazing. But the most fun part, is just getting dirty.
I grew up in… Sherwood Park and my fondest memories of there will always be… riding Gymcanna and playing kick the can with all the neighbourhood.
As a child, I dreamt of being a…
a Jockey. As kids we would adjust the stirrups on the bareback pad so high that we were practically standing on their backs while we rode.
If I had no limitations, I would be working…
running a dude ranch.
Something you'd be surprised to learn about me is…
that I started cutting hair at 14 years old. I worked as a hairdresser for 30 years and I still do hair occasionally, but only for my kids and a few friends.
My favourite guilty pleasure, closet snack food is…
sour cream and onion chips, I love, love, love them especially with a sweet chaser of something to follow.
I love telling people that I've traveled to…
California! We converted an ETS bus into a 13 sleeper camper and hit the road!
If I was a superhero my name would be…
Let me ask you this, have you ever seen Batgirl and me in a room together?
Question answered.
My all time favourite movie is…
Anne of Green Gables, starring Meagan Follows.
The book I could read again and again is…
Reread a book? Nope! I need to read a new Harlequin romance once a week in the summer.
My life motto is…
One day at a time.
My colleagues would most likely describe me as…
a busy body and quirky. My colleagues often remind me to go eat lunch because I get so caught up with being busy at work.