Lorie – Home Décor Manager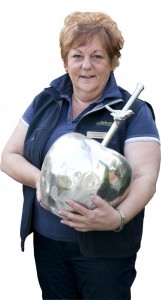 Lorie is the mastermind behind all of the creative knick-knacks that you just can't help but fall in love with at Salisbury. When you walk through home décor and discover that piece that you've been looking for, she's the one to thank. Lorie spends her whole year looking through up-and-coming trends for décor, and Christmas themes to excite your imagination. So the next time you're feeling inspired in home décor, know that Lorie is working hard behind the scenes orchestrate our beautiful displays of goodies.
Nickname:
Marge

Besides admiring the plants, I can be found at Salisbury…
in giftware, managing and buying product.
My Favourite plant is…
anything that flowers and can withstand pine needles and squirrels.
What I love most about gardening is…
coming home from work, relaxing on my deck admiring all my plants.
I grew up in… a small town in Saskatchewan and my fondest memories of there will always be… winning provincials in curling!
As a child, I dreamt of being a…
a professional curler.
If I had no limitations, I would be working as an…
Interior Designer.
Something you'd be surprised to learn about me is…
I am an athlete!
My favourite guilty pleasure, closet snack food is…
Hawkins Cheezies.
I love telling people that I've traveled to…
Atlanta, Georgia, spending my birthday there over the last 4 years, buying Christmas decor.
My all time favourite movie is…
Gone with the Wind
My life motto is…
Life is short. Cut out negativity, forget gossip, say goodbye to people who hurt you, spend your days with the people who are always there.
My colleagues would most likely describe me as…
A dedicated, fun-loving employee and friend who has a great sense of humor.