Karen – Fashion Manager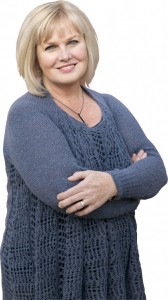 If you're looking for a ray of sunshine, you'll find it with Karen, even on the gloomiest of days. Her smile is like the perfect hug and her joyful laugh is infectious. Karen has a knack for finding latest styles, which is evident with the incredible fashion pieces, and trendy accessories she's always bringing into the greenhouse. If your wardrobe needs an update or you're looking for some cheer, visit Karen in our Fashion area.
a.k.a (nickname):
In one of my old work places, they used to call me 'Dolly".
Besides admiring the plants, I can be found at Salisbury…
Merchandising, steaming, climbing ladders, fussing with necklaces, crawling into cupboards on my hands and knees.
My Favourite plant is…
The lilly, it's just such an exquisite flower.
What I love most about gardening is…
The sense of calm that takes over, even if there's so much to do.
I grew up in… and my fondest memories of there will always be…
I was born and raised in Montreal, I loved cycling along Lakshore Drive, dining out often, sitting on the terraces with a sangria and, of course, cross border shopping on Sundays in nearby Plattsburgh New York.
As a child, I dreamt of being a…
Every week it was something different.
If I had no limitations, I would be working as…
Maybe a lobster fisherwoman… on the nice days only, or a lighthouse keeper… on stormy days only.
Something you'd be surprised to learn about me is…
I'm shy… seriously!
My favourite guilty pleasure, closet snack food is…
Definitely cake, safeway birthday cake to be exact!
I love telling people that I've traveled to…
I haven't traveled to that place to brag about yet.
If I was a superhero my name would be…
'Super K', that's what my husband likes to call me.
My all time favourite movie is…
'It's a Wonderful Life' – I know it's sappy but it chokes me up every time.
The book I could read again and again is…
Anything from James Harriot. My father used to tell me when I was younger to read his books, so I picked them up years later and would just giggle my way through – he was so right.
My life motto is…
Always treat others as you would want to be treated.
My colleagues would most likely describe me as…
Most definitely bubbly, but my daughter likes to call me quirky – "But in a good way mom!"