François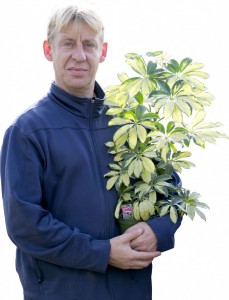 If you ever need a helping hand François is the man to see. He can be found keeping busy in the hardgoods department and helping his fellow colleagues around the greenhouse. Rest assured that if what you're looking to take home is heavier than you expected, François will make sure it gets to your car without you having to break your back. He has also transformed our space beautifully with seasonal tableau's perfect for mini-session photoshoots. Come by to enjoy his scenic displays, and have a quick read about where François comes from. You'll be pleasantly surprised what you learn.
Nickname: Frenchy

Besides admiring the plants, I can be found at Salisbury…
in soil, chemical, fountain departments as well as running throughout the store helping.
My Favourite plant is…
too difficult to choose but in general eatable plants.
What I love most about gardening is…
growing vegetables and eating the harvest. A unique taste from your own labour.
I grew up in… France and I remember… the time spent with my dad in the garden, eating directly from the plants.
As a child, I dreamt of being a…
dancer, and I achieved it.
Something you'd be surprised to learn about me is…
I traveled all over the world in my previous job and I was a principal ballet dancer.
My favourite guilty pleasure, closet snack food is…
coffee
My all time favourite movie is…
'Le Parfum" by Patrick Süskind
The book I could read again and again is…
Same as above.
My life motto is…
There are no problems, just solutions.
My colleagues would most likely describe me as…
The man that we can count on and everybody knows his name in the greenhouse.