Brigitte – Head Cashier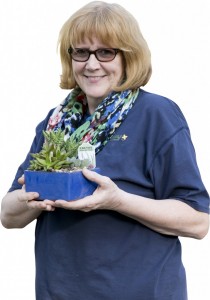 Brigitte is most likely, the first face you see when you enter our doors and the last face you see as you leave. She's our trusty head cashier and she knows just how to make your visit end on the most cheerful note. She's an experienced gardener, traveler, and an amazing hobby photographer! Any time you take a minute to chat with Brigitte you'll discover something new and interesting. Whether you're on your way in or headed out, give Brigitte a nod and she'll return a smile.
Besides admiring the plants, I can be found at Salisbury doing…
You see me first AND you see me last when coming to Salisbury. I am the Head Cashier.
My favourite plants are :
Succulents! So many to choose from, it can become somewhat of an addition!
What I love most about being in the garden is …
Solitude. It may be work, but I can spend hours there. Digging, thinking, weeding, contemplating and at the end of it, just feeling content.
I grew up in Berlin, Germany … and my fondest memory there (aside from my family life) is … New Years! Fireworks everywhere, the whole city on fire. There is nothing like it – you have to see it for yourself, to believe it!
As a teenager, I dreamed of being a …
florist, but an aunt talked me out of it. Maybe I should not have listened to her? It took a long time for me to find my way into a Greenhouse.
If I had no limitations, I would be working as a…
Third driver (test driver) for Formula 1 cars … seriously!
Something you'd be surprised to learn about me is …
I am an omi to four grandsons (no girls), still speak German every day and ride my Motorcycle to clear my head, whenever I can.
My favourite guilty pleasure closest snack food is… cheese and grapes. They are perfect companions in my opinion. It doesn't have to be accompanied by bread or crackers to enjoy the flavours.
I love telling people that I've traveled to…
Ummmm … Africa, Malaysia, Vietnam, Cambodia, Europe, Costa Rica, Alaska, Caribbean. You may have guessed aside from plants, my other passion
is travel.
If I was a superhero my name would be … Parachute Marthgyver … has the ability to save loved ones from peril like a parachute, and cook a fabulous dinner on a campfire, from "nothing".
My all time favourite movie is …
I watched this movie many times with my girls as they were growing up. It brings back mother/daughter memories which make me smile. If you know the quote, you know the movie:
"Requesting permission for flyby"
"That's a negative Ghostrider, the pattern is full"
"No. No, Mav, this is not a good idea".
"Sorry Goose, but it's time to buzz the tower"
The book I could read again and again is…
none. I belong to a book club and put my effort into reading new books as much as I can. However I do pass on some of my favourites, as recommendations, to family and friends.
My life motto is…
Only as high as I reach can I grow, only as far as I seek can I go, only as deep as I look can I see, only as much as I dream can I be.
My colleagues would most likely describe me as … creative on many levels! (may be related to MacGyver).